11 juillet 2011
1
11
/

07
/

juillet
/

2011
23:10
NB: for non English speaking people, use a translator such as translate.google.com
Once I had (last!) received my invitation to Google+, I started to play around with it. I will not describe here my feeling about the concept by itself, but will go straight to the point: the privacy.
One of my contacts told me he could see some others contacts, on my Google+ profile, that he does not know, and that were said to be "In Philippe's circles"...
Wow, I realized he was seeing some of my contacts, personal and/or professional ones, and I did not say Yes for that first, to my knowledge...
At once, I went to Google+ settings (on the upper right corner), and then: "Profile and privacy":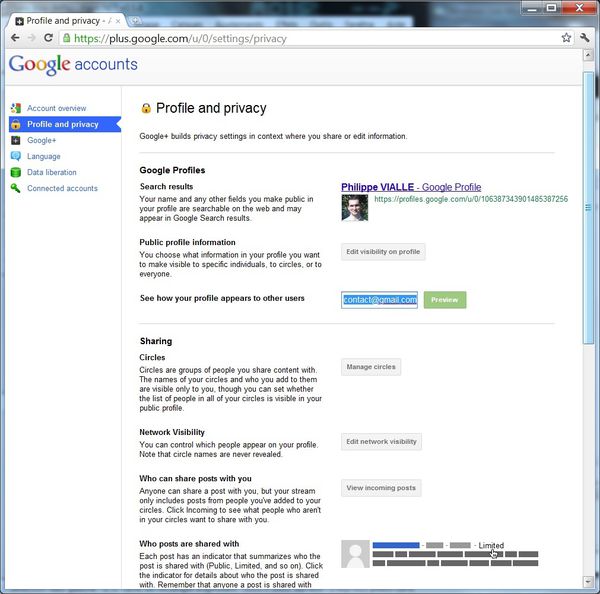 It is true to say that Google offers a mean to understand how you own profile will be seen by others: just enter their name, and click Preview.
Then came the real issue: yes my contacts, mixed pro/perso, were visible to anybody, on my profile... Is there a particular setting for that? fortunately, yes!
Click on "edit profile", then on the area where your contacts are being displayed to others, on your own profile: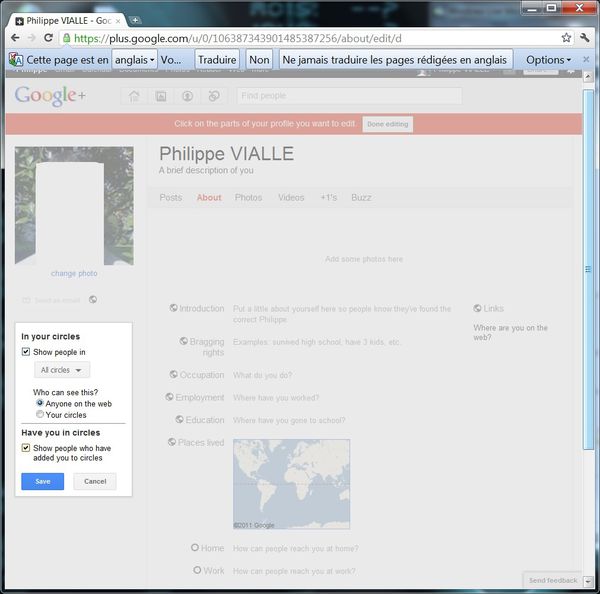 No, you do read right... by default, all your contacts will be prompted to "anyone on the web", and above all, your last activity (people adding you to circles), will also be there...
In a nutshell, I do recommend you to:
- either choose the circles of people you accept to be shown on your profile, or just disable the "show people"
- disable the "show people who have added you to circles", if you think you'll be part of confidential circles...