14 mai 2011
6
14
/

05
/

mai
/

2011
01:41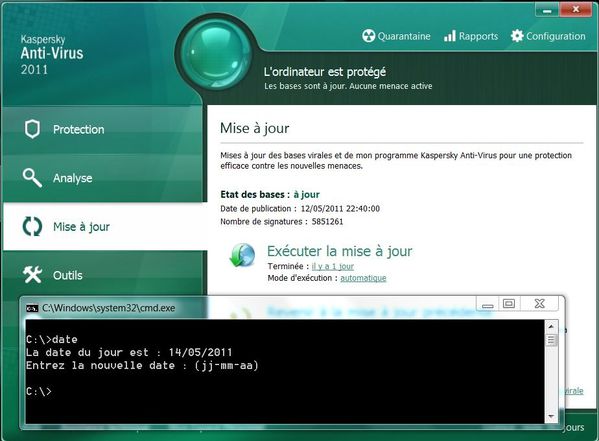 To those who do not speak/read French, the screenshot proves that:
- KAV 2011 was updated the 12th of May, 10:40PM
- 2 days after that, the 14th of May, 01h40AM, Kaspersky still claims it is up to date!
- udpates are automatic, the default and recommended setting
Note the interface says "the computer is safe. Databases are up to date"...
In a world where antivirus definitions updates are provided quicker than every hour, I don't think more than 24 hours without any update could mean "computer is safe".
In a nutshell, it is not because your KAV says it does protect your antivirus at maximum that it is true...
Here is the proof of it: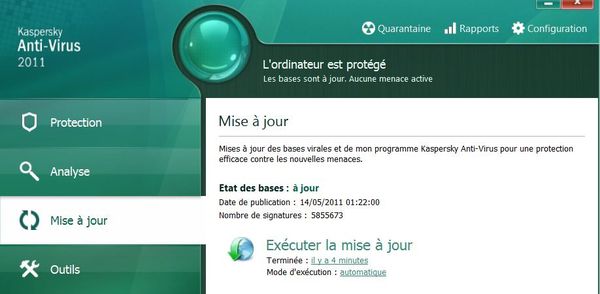 After 10 minutes, KAV did start its automatic definitions update. Now, it claims to be "up to date", with a database file generated the 14th of May (ie: today!), 01:22AM!!
Update:
Now, taking that into account, a few advises:
- at the right moment the computer get internet connection, and beforce starting any network application (IM, browser, RSS reader, email client...): force Antivirus definition update.
- if your computer was in a sleep mode, or even in hibernation, then just the same: force the update at the right moment it has Internet access
- after the update process, make sure there is no need to reboot to "apply the update"
- then, your computer is preing protected the best your AV solution can