17 mars 2010
3
17
/

03
/

mars
/

2010
22:44
I'd heard that Norton (I mean the last version) has improved quite a lot
.

It is said to be less system resource consuming, and more efficient. On my part, I spent almost 5 years cleaning computers that were supposed to be protected by Norton... (and others AV, that's true). This is the real life, I can't lie about it.

Anyway. Since I'm curious and I believe Symantec is able to improve its product, I decided to have a look at the famous "last Norton".

This came to me like in a natural way. I installed a software that offered me to install "Norton Security scan" as well (choice by default, please note that point...).

My main computer is being protected at the moment by an up to date AV (MS Security Essentials), and 2 AV on demand (Spybot + MalwareByte).
I let the Norton Security Scan do...


What results?
well...
something like 35 'threats'!
But, in fact,
only cookies...


It is very well known that a cookie is a serious threat, able to destroy my computer... [bad joke]. Nonetheless, according to Norton, my computer is at risk, and a serious one.

To fix the 'dangerous items', users obviously have to buy Norton... They definitely are smart, at Symantec Corp.

But the trickky part is not there.

The Norton Security Scan wakes by itself, from time to time, takes the focus, and displays its warning until you click on 'proceed to checkout' or 'no thank you'.
Please note that 'no thank you' is a very very small button on the popup, like if users were not supposed to see it. Furthermore, there is not "cancel" button on the default popup, you have to click on the cross to close it...!

Then the warning comes again and again. You may reboot the computer, it will still show up after a little bit of time.

Well, sounds like some viral technology... doesn't it? A software you can't really close and that reminds you it is there, and that goes back even after reboot is quite similar to what you can expect from a spyware, adware, or even a keylogger... isn't it?

Here is an example of the 'scary' message you can see, from Norton: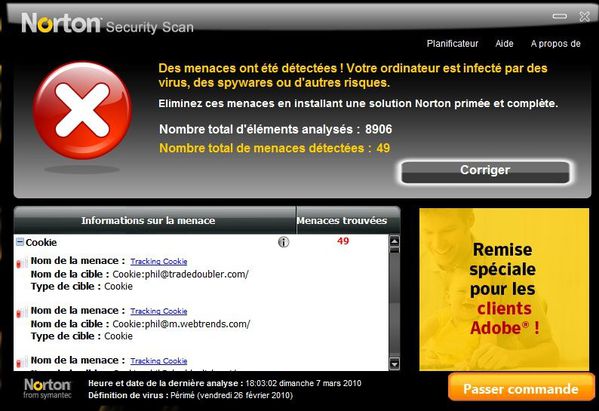 Sorry it's a French version, but quite badly translated.


Anyway, you may read
many complaints on the web about software that harvest and/or harass users until they pay for a so said license... Rogue antivirus are one of the best examples.


Is Norton playing the same way that rogue antivirus do? That's an interesting marketing strategy (use customers fear...).

In the past, we'd seen computers being sold with "antivirus pre-installed"... well yeah, just a 3 months demo license, which point was not clear to the customer. And after that, warnings coming from everywhere to remind the user to buy Norton...


Thus, new version right, but means even worse than in the past?
I can't hardly believe what I saw on my screen.